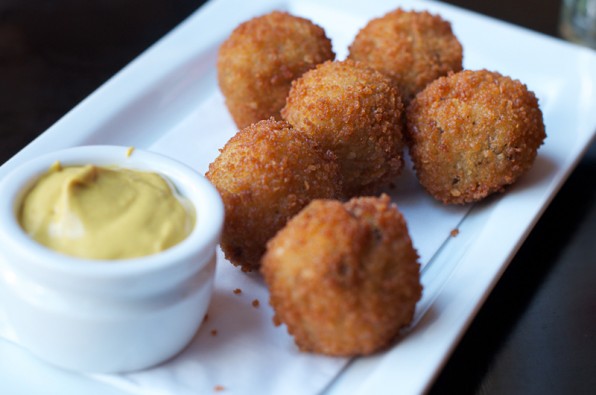 hhkjhkjh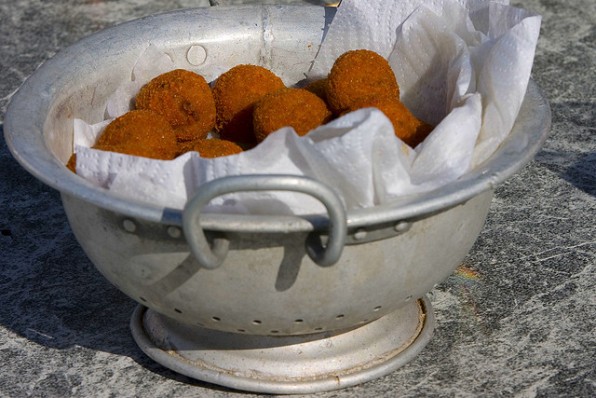 Bitterballen
Author:
Prep time:
Cook time:
Total time:
The Queen of Dutch snacks: The one and only bitter balls!
Ingredients
BITTERBALLEN
100 grams (3.5 oz) butter
150 grams (5.3 oz) flour
700 ml (23.7 fl oz) beef bouillon
400 grams (14 oz) cooked meat, shredded
30 grams (1 oz) fresh onion, minced
1 small carrot, grated
2 tbsp finely chopped fresh parsley
1 tsp grated nutmeg
1 lemon, juice
vegetable oil, for frying
salt and freshly ground black pepper
BREADING
50 grams (1.8 oz) flour
2 eggs, beaten
50 grams (1.8 oz) bread crumbs
Instructions
Heat oil in a frying pan and fry the minced pork for 4-5 minutes, or until browned all over.
Add the onion and carrot to the pan and fry for 4-5 minutes. Remove the mixture from the pan and set aside to cool.
Stir in the nutmeg, parsley and lemon juice and season, to taste, with salt and freshly ground black pepper.
Melt the butter in a skillet or pan. When melted, add the flour little by little and stir into a thick paste. Slowly stir in the stock, making sure the sauce (roux) absorbs the liquid. Simmer for a couple of minutes on a low heat while you stir in the meat mixture. The whole mixture should thicken and turn into a heavy, thick sauce.
Pour the mixture into a shallow container, cover and refrigerate until the mixture has solidified.
Beat the eggs in a bowl and sprinkle the breadcrumbs onto a plate.
Heat the oil in a deep heavy-based frying pan until a breadcrumb sizzles and turns brown when dropped into it. (Be careful: hot oil can be very dangerous. Never leave unattended!)
Take a heaping tablespoon of the cold, thick sauce and quickly roll it into a small ball. Roll lightly through the flour, then the egg and finally the breadcrumbs.
Fry the balls for 3-4 minutes, or until golden-brown. Remove the balls from the pan and set aside to drain on kitchen paper.
Serve on a plate with a nice grainy or spicy mustard.