We are going cuckoo for Keukenhof, mainly because seeing 7 million bulbs burst into bloom and put on a hell of a show is our thing! If you think that having your mind blown by the power of flowers might be your thing too, you need to get to the beautiful Keukenhof gardens in Lisse. Stuff Dutch People Like has put together a list of 10 things you need to know about this floral haven. 
10 Things You Need To Know About Keukenhof
1. Keukenhof advertises itself as, "the most beautiful spring garden in the world". It's quite the behemoth of a garden too, and stretches over 32 hectares (to put this in perspective, one hectare is the equivalent of nearly 2 soccer fields). That's a whole lot of flowers and must make for some very happy bees! There are 15 kilometers of paths through the garden, which you can walk around to take in the many gorgeous floral views.
2. Keukenhof opens for a mere 8 weeks in every year, from March to May. It's thyme you made some plans to go there! Over these 8 weeks, over a million visitors will come to admire the floral porn.
3. There are about 30 full-time gardeners who work year-round at Keukenhof. 100 bulb growers supply 7 million bulbs, for free, which are planted in the autumn. You could say they rose to the occasion to get all that planting done…At the end of the season the bulbs are dug up, and used as animal food. That's one tasty floral treat for some four legged friends.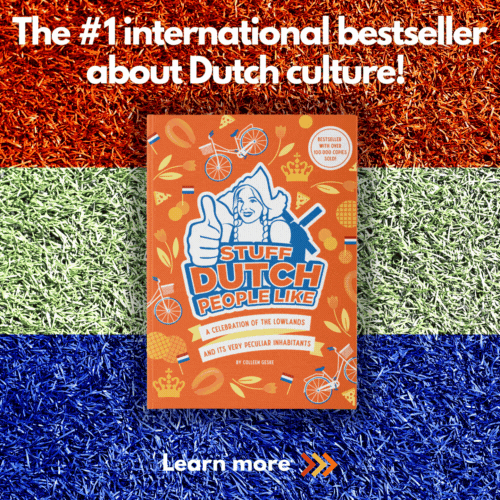 4. To ensure that flowers continuously bloom for 8 weeks, the gardeners use something called a "lasagne technique". They plant the bulbs in layers, with the bulbs that bloom the latest planted the deepest, and the earliest blooming bulbs the closest to the surface. Imagine if they planted in the reverse order ….oopsie daisy!
5. The garden is in a small town called Lisse, which is easy to get to by public transport. You can also take a bus tour from Amsterdam…in fact, it's possible to head to Keukenhof directly from Schiphol airport, as you can take a tour bus directly from outside the airport.
6. Walking around the gardens, from one amazing flower display to another, will make you a happier person. It is guaranteed to be a fabulous floral treat.
7. Each year there's a new theme. 2016 was, 'The Golden Age'. This year Keukenhof is celebrating, 'Dutch design'. In particular think abstract, geometric forms and primary colors.
8. Right now at Keukenhof the crocuses and daffodils are in bloom. You might see the very early tulips starting to bloom outside, but don't expect a garden full of tulips at the beginning of spring time, as they bloom a little later. See for yourself on the Keukenhof 'current status of the flower fields', webcam. Thanks a bunch for that guys 🙂
9. As well as the fabulous colourful flower displays, Keukenhof also houses the world's largest collection of lilies and even has its own windmill.
10. While you are visiting the actual gardens, don't forget to hire bikes or take a boat tour of the flower fields in the local area. Or if you're feeling a bit 'rock and roll', why not take a helicopter ride over the tulip fields? Go with your lover and put your tulips together (sorry, last pun, we just couldn't resist) 😉