You may hear Dutch people grumbling about how cold it is, how the cold weather is slowing down trains, how flights are not taking off from Schiphol, how long it took them to get to work and how it makes for a freezing commute by biking – but I'll let you in on a little-know fact: secretly they like LOVE it.
They love the cold temperatures, the frosty wind, the frost-capped canal houses and the gleaming sunshine. They love the excitement it brings; the excitement it adds to an otherwise gray and dreary endless dutch winter.
Couple the snow, the sun and the cold with the anticipation of….wait for it… skating on natural ice, and collectively you have 17 million people on the brink of a national orgasm. Dutch people love to skate but more importantly they love the elusiveness of skating on natural ice in the great outdoors.
Of course being able to skate outdoors for a few days every few years is one thing, but add the Elfstedentocht to the mix and you have an entire country in the grips of joyful anticipation.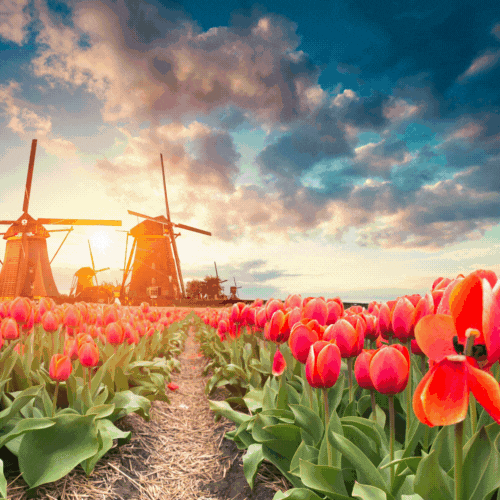 Haven't heard of the Elfstedentocht yet? Why, you must be walking around with your hands firmly on your ears! Every year when temperatures hit a certain degree the big debate begins: Will it or won't it happen?! Oh my! Oh my!!! The Eleven Cities Tour, the Dutch's national pride, is an ice-skating marathon held in Friesland with participants joyfully skating through 11 Dutch towns on a mere 200 kilometers of natural ice paths. In the past 20 years, the Elfstedentocht has happened all of … ONCE (in 1997). The thought of it possibly ever happening again is pretty darn freakin' exciting to those ice-loving Dutch people!
The odds each year are pretty grim, but that doesn't stop Dutch people from wishing and hoping, and more importantly – practicing! Go to any rink or body of slightly frozen water in the middle of a cold Dutch winter and you will see scores of Dutchies sharpening their blades and practicing their moves in hopes of a great 11-city race!
Coming from a country that has Siberia-esque winters, outdoor activities (including skating on endless kilometers of outdoor ice) are not that special and certainly nothing to write home about! However, I must say that a palpable vibe of happiness and excitement sweeps the country every time the possibility of outdoor skating presents itself.
The race almost took place in 2012. In fact, the ice was set, the date was announced, the tickets distributed….and then the darn sun started to shine, parts of the race started to melt, and the whole thing was called off – painfully – a mere 3 days before the big event! This past week temperatures have made for some frosty conditions, but nothing significant yet. The rule of thumb seems to be: 3 nights of -10C before the canals are safe enough to walk/skate on. This hasn't happened yet…but it doesn't mean we can't keep our hopes up and our freezing cold fingers crossed!
I had the extreme pleasure of ice skating down Amsterdam's city center canals in 2012 and it is a memory I will never forget!! 🙂