Last year, a Dutch national treasure quietly stepped into the spotlight at Amsterdam's Rijksmuseum with a humble exhibition titled Dick Bruna. Artist.
Two years ago when I handed in the first draft of my MA thesis, I made the mistake of calling a book 'a work of art'. Trained as a medieval scholar, I always considered books to be works of art. The Utrecht Psalter, Van Eyck's Turin-Milan Hours, William Blake's illuminated books and so many other treasures should be — in my opinion — referred to as works of art. My supervisor, with the best of intentions, explained that an academic paper cannot define a book as work of art, because it simply isn't so.
While reading the catalogue of Bruna's exhibition, I was, however, delighted to see the growing appreciation of graphic design and applied art as a full-fledged art discipline.
[divider]He called her Nijntje[/divider] In 1955 Bruna created a small drawing of a rabbit to entertain his young son. This small rabbit went on to become arguably one of the most famous rabbits of all time. He called her Nijntje, a shorten version of the diminutive Dutch word konijntje, meaning 'little rabbit'. The books featuring this character (who was called Miffy in English) have been translated into more than fifty languages and are part of the collective memory of three generations.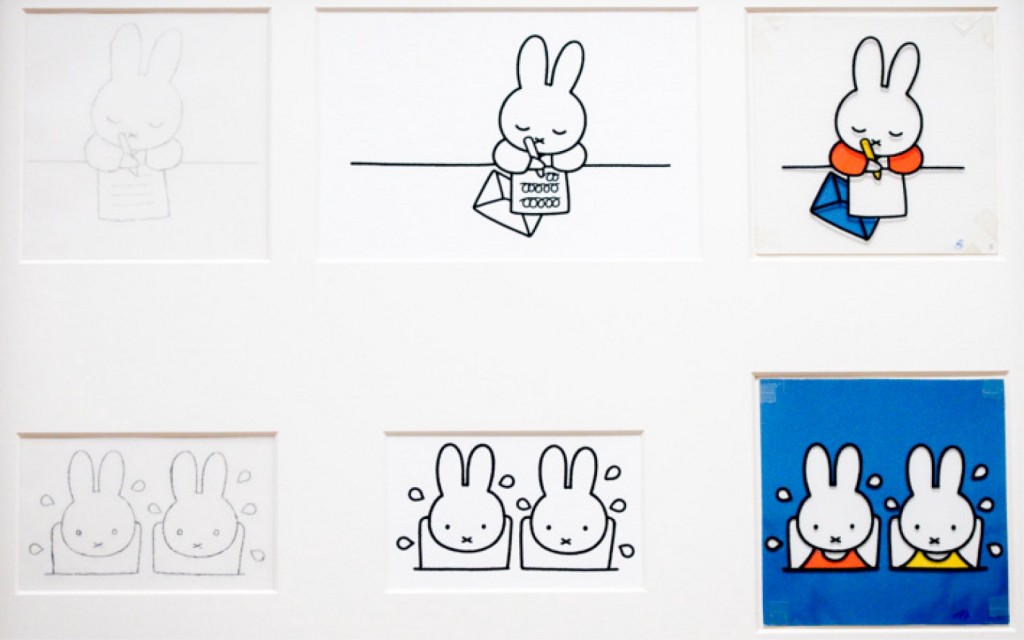 [sdpl-ad5]
[divider]Thousands of Zwarte Beertjes[/divider] Born in Utrecht in 1927, Dick Bruna was the son of a successful publisher A.W. Bruna. Immediately after the war, under pressure from his father, the young Dick Bruna was sent to work in a publishing house in Paris. As the eldest son he was expected to eventually take over the family firm. Instead of devoting himself to business, Bruna seized every opportunity to visit Parisian museums and galleries. Simple shapes, abstraction, convincing black lines, solid planes and bright primary colours that characterised the works of Matisse, Léger and Picasso, inspired the young Dick Bruna to become an artist.
When he returned home from Paris, Dick Bruna reluctantly joined his father's publishing house as a book jacket designer. Between 1951 and 1969 he worked relentlessly, designing more than two thousand book covers for the popular detective series Zwarte Beertjes (Little Black Bears).
For inspiration, Bruna looked at the world around him. Many of his designs for the Zwarte Beertjes were inspired by the pre-war avant-garde movements in France, known for their experiments, innovation and deliberate stylistic breaks with the past.
Furthermore, the approach to composition, the simplification of form and the use of colour in Bruna's cover designs reflect the work of Henri Matisse (1869–1954).
I saw Matisse — and came up with Miffy
In most of Bruna's autonomous work we see above all the unmistakable influence of Matisse. Just how much influence Matisse exerted on Bruna, including his use of color, can be seen in the posters Bruna designed from the 1960s. Modern artists, like Matisse, challenged the commonly held view that green and blue could not be placed side by side. Bruna frequently used this color combination.
An obvious difference between Bruna and Matisse's cut-outs is the black outlines. According to Bruna, the inspiration for the lines came from Léger, and from a chapel in Venice decorated by Matisse.
[sdpl-ad5]
Bruna made a more anecdotal reference to Matisse in Nijntje in het museum:'that one is fine, said miffy | the colours are so clear | as if the artist cut them out | and stuck them on up there'.  Like Matisse, Bruna cut out his shapes directly from solid coloured paper. The almost exaggerated traces of the scissors can even be seen from a distance in the rabbits' heads on the wall of the imaginary white cube gallery.
[divider]Bruna and De Stijl[/divider] De Stijl — a famous and highly influential Dutch movement active between 1917–1931 — was characterised by a radical degree of simplification or abstraction of forms, straight black lines the enclosed uniform planes, coloured or not, and a palette reduced to primary colours with addition of black, white and grey. Bruna was greatly inspired by the work of a number of members of De Stijl. He adopted De Stijl's standardised colours for his own palette, but used slightly different tones.
'They're called the primary colours, but that's not right. Rietveld used the same colours as I do, but his blue is completely different from my blue, and we both think that our blue is the ultimate blue.'
Bruna's red has remained unchanged for more than 50 years (!) but tends somewhat towards orange. And although he quite often used green in his book covers, posters and books of print, he saw it as a compromise. 'I always tried to confine myself to the primaries — De Stijl colours'. Bruna's rules were simple: black for the lines, blue for the sky, green for the grass, yellow for the sun and red for everything else.
[divider]The Design Process[/divider] Bruna drew Nijntje for the first time in 1955, during a summer holiday. The drawing was intended to amuse his one-year-old son. From the moment the rectangular shape of the first book was transformed into a square in 1963, Nijntje rose in popularity and  has only continued to do so. In total Bruna made over 30 books with her as a star and countless translations have brought international fame to the little girl rabbit.
Although Nijntje has hardly aged in more than 50 years, she has gone through significant changes in her appearance. These metamorphoses have given at least three generations all over the world a different perception of the same figure. Nonetheless, everyone recognizes the rabbit as Nijntje/Miffy. And for 60 years she has appeared in an unchanging combination of colours.
What strikes us immediately about Nijntje is the fact that Bruna didn't produce a cuddly bunny. When you see Nijntje for the first time, she may appear to you as immobile and void of intense emotions. She has no eyebrows with which to express herself, no real corners to her mouth or wrinkles and laugh lines. With meticulous care, often extremely subtle, Bruna slaved away for hours to create an animated, thinking and feeling being.
During the last 60 years of her existence, the little rabbit has been surprised, sad, cross, ashamed and happy.
In the book Nijntje in het museum (Miffy at the gallery) the little rabbit visits a museum with her parents. At first, her father wonders if she is really big enough to go to a serious place like a museum. Luckily she manages to convince him: 'Too small, said miffy, no I am not. I'm really big and tall!'
The family sets off at once. In the accompanying caption there is a clue to her emotional state: 'So miffy was allowed to go. And off the bunnies went. What fun to see a gallery. Miffy wondered what it meant.'
Bruna drew her expectant curiosity by making her eyes bigger, longer and wider. A very human reaction: fear, suspense and excitement make the pupils larger. After Nijntje admired the modern masters, it is time to go home. On the way back, the black dots become noticeably smaller. The suspense and excitement are replaced with satisfaction. Although it is so subtle as to be barely apparent, our own interpretation of the situation makes this depiction more effective.
So much expression with subtle elegance. This is the magic of Nijntje.
Dick Bruna is a Dutch author, artist, illustrator and graphic designer. Bruna is best known for his children's books which he authored and illustrated, now numbering over 200. On 20 February 2017, Dick Bruna passed away at the age of 89 years old.
---
---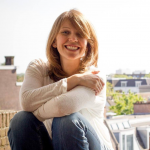 Guest blogger: 
Victoria Zaborov
Victoria Zaborov is a world traveler, art historian, writer and Dutch culture enthusiast. For the past three years, writing about Dutch art and design has become one of her biggest passions.