Last month we had the pleasure of chatting with international classical music star, Mirusia Louwerse. Mirusia is the darling of the classical circuit, an accomplished soprano, an Aussie-Dutch hybrid, and most importantly, a Stuff Dutch People Like fan! Currently on tour in the Netherlands, we were curious to learn more about what it meant to grow up Dutch 'down under' and how her Orange roots influenced her career. Below are edited excerpts from our interview.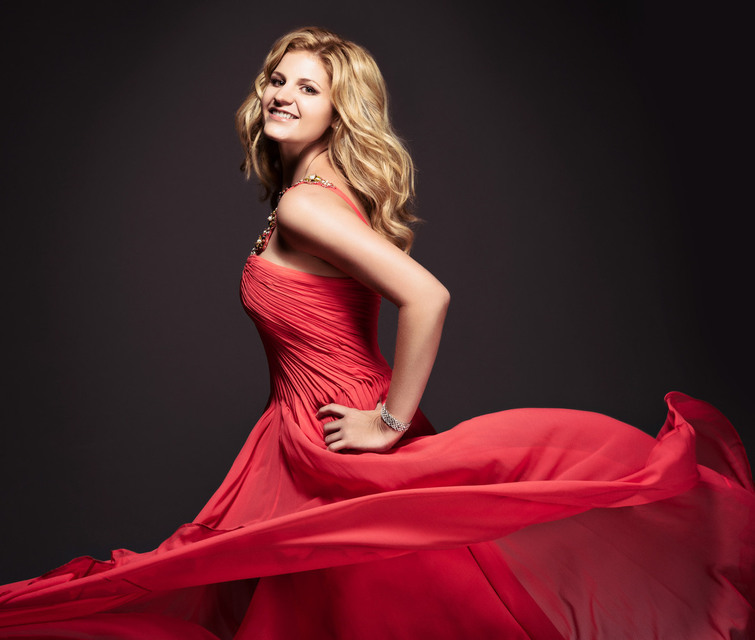 On moving to Australia
Mirusia Louwerse was born on March 29, 1985 to two Dutch parents in Brisbane, Australia. Her mom is originally from Brabant and her dad from Zeeland. Mirusia's  parents, a boiler-maker and a nurse, moved from The Netherlands in their twenties after being granted a permanent residency visa to Australia.
Q: How did your parents end up down under?
A: They got the opportunity to go to Australia.  And they thought, well why not? They were very adventurous, so they thought let's just do this!  They were in the paper and  they were famous, for a day. [laughs] Nowadays they would've probably been in a reality tv show. Back then,  it was just an article in the paper and every couple of years they would catch up with them and do an update.
On Growing up Dutch
Q: Did you celebrate Dutch holidays or speak Dutch at home?
A: Dutch was my first language! My mother actually worked in a Dutch – Australian retirement village, so I grew up with lots of elderly Dutch people. They kept the Dutch traditions alive [at the village] with Sinterklaas, Dutch food and Dutch festivities. For Queen(King)'s Day, they always had a big festival!
Q: Did you grow up eating traditional Dutch food/snacks?
A: Yes! In Australia there are a lot of Dutch people. We have a big shopping centre with a whole Dutch section, so they've got all the typical Dutch food! They even have Dutch liquorice, stroopwafels and Dutch appelmoes! My friends loved our poffertjes! [laughs]
Q:  Was there anything you found strange or particularly weird about Dutch food?
A: It was funny to play tricks on my friends and make them eat the Dutch food [laughs]! At the time we had these black and white M&M's called Vice Versa,  so my mom thought  it would be funny to swap them for the Dutch salmiak liquorice that were exactly the same size and colour. My friends would come over and they would scream "What is this??"
A musical start
Q: When did you start singing? Was it your own initiative, or did your parents actively encourage you to start singing?
A: Well, it's interesting, actually I started singing because I only spoke Dutch! Dutch was my first language, so in Australia it was kind of hard as I was young and had friends but couldn't even speak to them. So my parents said "Ok, we need to expose her to more English." And the best way to do that was to listen to English music. So, they starting playing  Australian children's songs and I would listen and sing along. This basically taught me English; children are like sponges anyway [laughs]. I was always singing, and I thought,  I can do this really well!
Q: So you were aware at a young age that you had a unique talent?
A: Yes. I would be with my friends and we would sing together and I would be like "You're not singing it right!" [laughs]. I didn't know what it was exactly but I knew they sounded different than I did, and knew that I could sing it in tune or with the right timing. I would be like, "Ok, just let me do it."
On her "fairytale" start
Mirusia gained worldwide fame as a soloist, touring with renowned Dutch violinist and conductor,  André  Rieu. After her Dutch aunt visited her in Australia and saw her perform she wrote an email to André Rieu telling him about her niece. After watching videos of Mirusia singing, he called her directly at her home in Australia. Mirusia thought it was a friend playing a joke on her but quickly realized she was speaking with the real André Rieu who asked her to travel the world with him. Two days later she flew to the Netherlands and signed a contract for an international tour.
Q:  You didn't believe André was really calling you?
A: Yeah. When I had him on the phone, saying "I like your voice and I'd like to tour with you around the world", I was like, this is a joke! Who is this? [laughs]
Q: Were you already familiar with André and his music?
A: Yes – but I only knew him because my mom worked in the Dutch retirement village! He wasn't very popular yet in Australia at that time. It wasn't until after I joined him that he became more well-known in Australia, because we ended up recording an album together called Waltzing Matilda. It's the only time he's ever recorded a duo album with someone. He had  never done that before or since. It was a very big deal and it became very successful and was number 1 on the charts for many weeks. It was very huge. André exploded in Australia. It was just massive!
On her return to the Netherlands
Mirusia moved to Maastricht in 2007 and toured with André until 2012, after which she launched her solo career.
Q:  Did you ever imagine you'd end up back in the Netherlands?   
A: It really is quite ironic because my parents moved to Australia to give their children a better future and then I went and moved back to the Netherlands! Nobody could have known that! It's a coincidence that André is Dutch. You know what I mean? He could've been from Austria or he could've been, you know, German, or North American.  I didn't move back to the Netherlands because  my family came from there. It was where my work was taking me. So it was just very coincidental.
On fandom and celebrity culture
Q: What is one thing you truly love about your job?
A: The fact that I can actually make people feel good. I love that my music can heal them. Fans write to me all the time, and they say "You changed my life yesterday. I was on YouTube and I was really sad and for the first time ever I could let my emotions go about my mother dying."  I love that.
Q: Do you read all your fan mail?
A: I do. Every piece. Everything. I'm told not to. I'm told by so many people not to go there: "They are only going to bring you down."  "It will only make you work harder and harder."  But yes I get fan mail, and I read it all.
Q: What kinds of numbers are we talking? Is there any negativity in those messages?
A: I get a lot, like hundreds of messages a day. Facebook messages, emails from my website, tweets to my twitter account, messages on Instagram. Nowadays, everyone has social networks, so I get hundreds of messages a day. And no. No negativity!
Q: Are you recognised on the street?
A: Yeah, even in the smallest little cities in Holland. Everywhere we go people are like "Mirusia, Mirusia!"  I'm like "Oh my gosh how do they recognise us?" I like meeting my fans. When people say  "You know you changed my life!"  To think  I could do that is a huge thing. It's huge.
On her crowning moment
In 2013, Mirusia performed with Andre Rieu at the Coronation Concert of the New King of The Netherlands, King Willem Alexander.
Q: What was it like to sing for the King?
A:  It was amazing! It was the highlight of my career. Millions of people saw it on television! It was incredible!
Q: Did you get to speak to the King or Queen Maxima?  
A: No, it was really really cold that day. It was freezing. I was playing in Australia, and I was flown in to do the concert, and then I went straight back to Australia. So I was longer on the airplane than on the ground.
On (Dutch) culture shock
Q: So tell us in closing, what is the strangest "Dutch-ism" you've encountered in your time in the Netherlands?
A: That's a good one! The one Dutch thing I really don't understand is all the tanning beds! People own them – they have them in their homes. In Australia that's illegal! [laughs]. I was in shock when a  Dutch doctor actually prescribed that I go to a tanning bed to get some sun! In Australia we are careful about the sun and skin cancer, and here a doctor was prescribing a tanning bed!! I love The Netherlands! There are some things I still don't understand, but I love it!
If you want to hear Mirusia's talent for yourself then check out the remaining tour dates on her website mirusia.net. Make sure to also check out her Facebook and Instagram page!